My first Sabre.
As you'll see – it ended up pearl white and is the "Star Wars bike" with the sabre dash – she just keeps plugging away so got named Stormtrooper.
Bought off ebay in Queensland – ferried down on the back of a Ute to Adelaide –
To the right and below are two shots as when she arrived – about to be torn down – reasonably complete, just missing a few bits
So tear down – had to do some repairs to the exhaust collector and the RHS downtube required some repair of some rust and the welding of an "overtube" to provide structural integrity. The central spine tube on this one had cracked and had to be welded/repaired as well.
Thankfully the rest was pretty good – engine was good.
All in all this one was in the best shape on arrival of the three vfs I've got.
Repainted in 3 coat pearl white, decals were sourced from Italy,
Top clearcoat was done in KBS diamonclear.
This bike is factory stock with the exception of a CBR600 based rear shock, and Racetech gold valve emulators and higher rate springs in the front forks.
November 2015
Time for a catchup – this bike was great for a bit – but then started to be a bit troublesome with hot starting – then the tank developed some pinhole leaks at the read and the paint all bubbled etc etc.
So she sat in the garage for a bit –
Recently it was time to freshen her up and address the issues –
So a bit of modernisation was in order:
New bullet black halogen indicators fitted
tank stripped, repairs and lined –
repaint – still in progress
Replacement ignition coils fitted – (hot start)
Replaced one pulser pickup – (hot start)
rebuilt set of carbs fitted – revised adjusted float levels -(hot idle instability fix)
Valve clearances adjusted / cam timing checked / cam tensioners checked
Change of mirrors
Old high rise handle bars removed – clip-ons fitted
old dash removed and replaced with a new aftermarket digital and digital temp / voltmeter gauges – significant rewiring effort
Single headlight removed – replaced with black dominator twin headlight
Relay mod to drive the ignition coils more directly for improved spark
aftermarket adjustable levers fitted.
couple of oil leaks addressed – gasket on the crosshaft gearbox.
CBR900 shock fitted in place of the stock air assisted, 1000lb/in spring.
Shes now running really sweetly again – no starting issues at all.
At the moment shes still in white paint – with no features but I hope to fix that soon.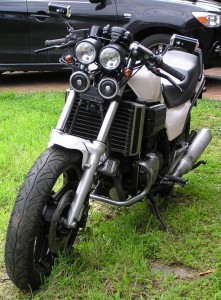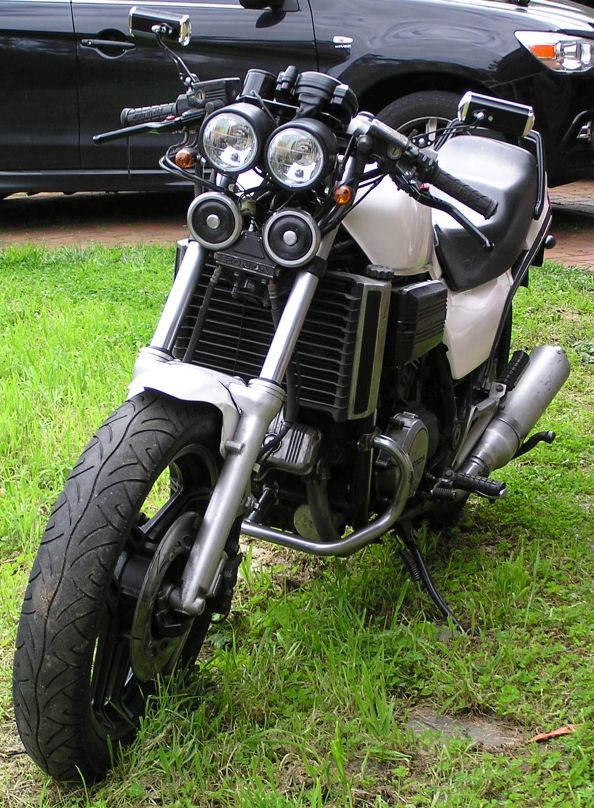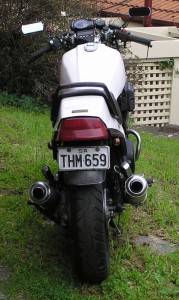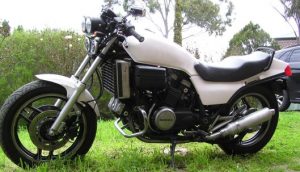 For Sale
– as Ive got too many vfs to ride !