CX – Conversion to 12V  HALL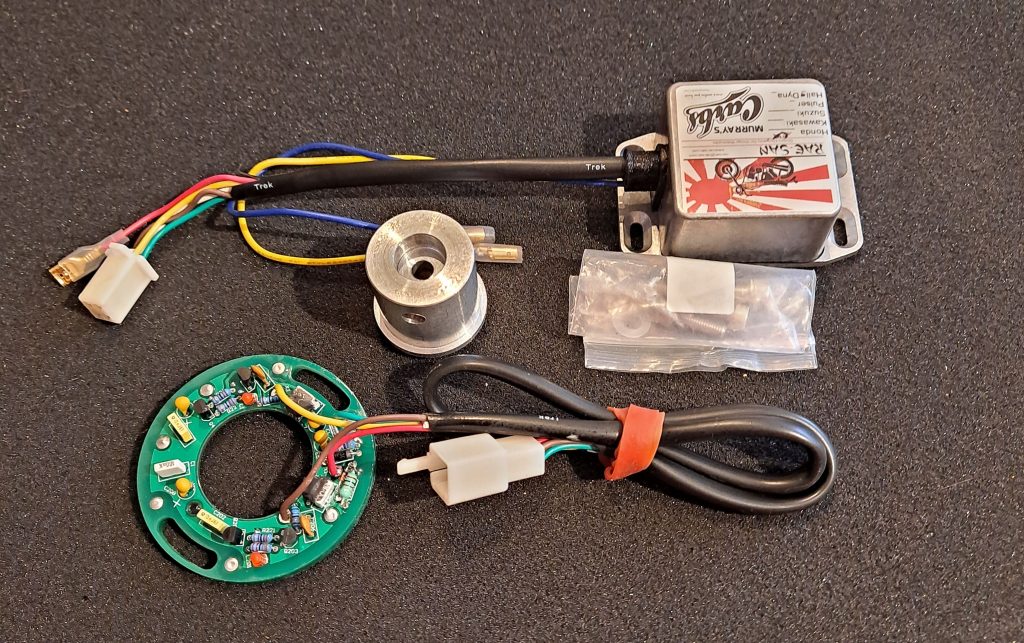 DESCRIPTION
This option uses the new generic GENERATION 4 ignition module that is used on the CB and GL series. In fact there are 3 variants available –
HALL Pickup to 12V coil Driver

This uses a supplied HALL pickup and rotor with magnet to generate the trigger pulses which are then fed to the controller process and use for dwell and advance calculation.

PULSER Pickup (ie OEM pickups) to 12V coil Driver

Uses the OEM pickup pulsers as used on many many bikes from the 70 – 90s. These pulsers generate two pulses – one at the start of the trigger lobe and one at the end to signal maximium and minimum advance.

DYNA S pickup plate to 12V coil Driver

Removes the load from the dyna S triggers, controls the dwell and advnace to drive the coils itself, just using the dyna plate to gererate the trigger pulses.
The GEN 4 module comes in a water resistant aluminium enclosure with o-ringed screws. The case  is used for a heatsink for the coil driver MOSFETS  and as the GROUND connection for the coil current.
Undoing the four screws allows the lid to be lifted and access to the diagnostic LEDS for timing trigger and coil firing, as well as two jumpers that allow selection of 1 of 4 timing advance curves to be applied.
You will note the label – some versions are produced in conjunction with Murrays Carbs and are exclusively available from Murray.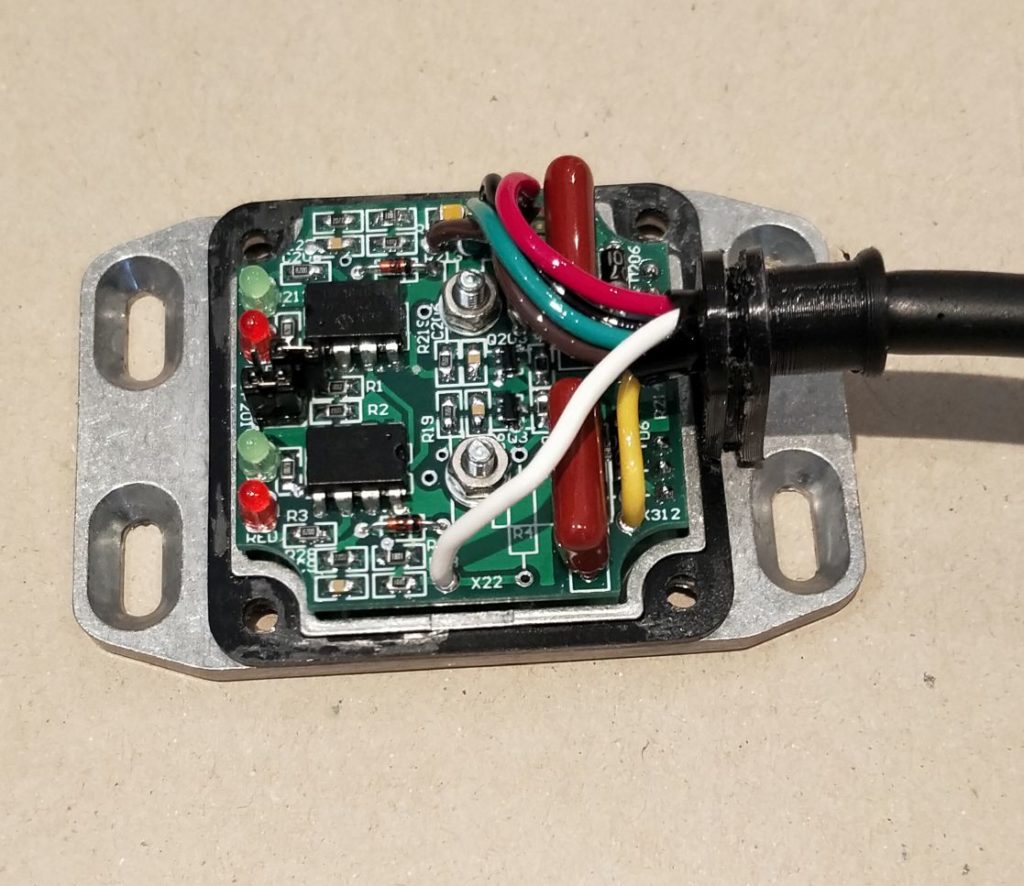 FEATURES
The GEN 4 module provides for all bikes
Designed to Drive coils from 2-4 ohms

3 ohm Dyna / Accel or similar coils

OEM 3.6 ohm coils

OEM 4 ohm coils

Dwell is between 4 – 6 ms – nominally 4.5 – 5 ms providing plenty of spark energy.

Dwell is extended during Cranking

Firing is Delayed during cranking to provide extra retard to the timing to make starting easier and avoid kick back loads on the starter gear for longer life and easier starting.

Coil isn't fired until first two – three revolutions. This allows the engine to spin up to better speed before spark is applied making for easier starting and less stress on the engine. It additionally prevents accidental spark at switch on from occurring should the engine have stopped in a "triggered" position.

Ability to drive through the LS2 Adapter to LS2 style "electronic" coils.

Reprogrammable – for different curves, software update or to suit different bike.
For the CX 500 in particular:
This is suitable to convert the CDI bike to a 12V coil system.

Convertion to a 12V coil system should also entail a stator change to the high rated G8 style of 12V only stator – as more current will be drawn from the 12V system to power the coils compared to the CDI system

Upgrade of the Rectifier/Regulator to a MOSFET or series regulator is a worthwhile consideration – as the more capable stator will also need more current to be regulated.

If using LS2 coils – both of the above would be mandatory.

There is no Ignition Kill wire interface – A Relay needs to be used on the kill switch wire to switch the power to the ignition

No GY6 CDI mdules are used – so mounting is simpler

Option to order with the Relay pre-wired
Coils
3 ohm coils are the optimal choice for the TAI 12 volt style ignitions here –
however it doesn't make much sense to ship them from China to Australia and then back out to the majority of customers in the US, not with shipping charges and taxes.
It makes more sense for US customers in particular to obtain them locally –
I'm evaluating a number of coil and COP options -as they come up – you can check them out in detail here.
The best priced option Ive found is from 2fastmoto.com.
Single Output (for twins)
Dual Output ( for 4 cyl)
These are great – but need some work to position and leads to suit
These work well and fit in the standard location – and come with leads.
DO NOT USE the AB7030 coil available through Wemoto – this is  incorrectly listed agaist a numvber of bikes and is a CDI coil.

The Correct Coil should be a AF1759 but as yet Ive not had any to verify.
The TAI coil appears to have two terminals opposite one another – the CDI has them at 90 degrees to each other.