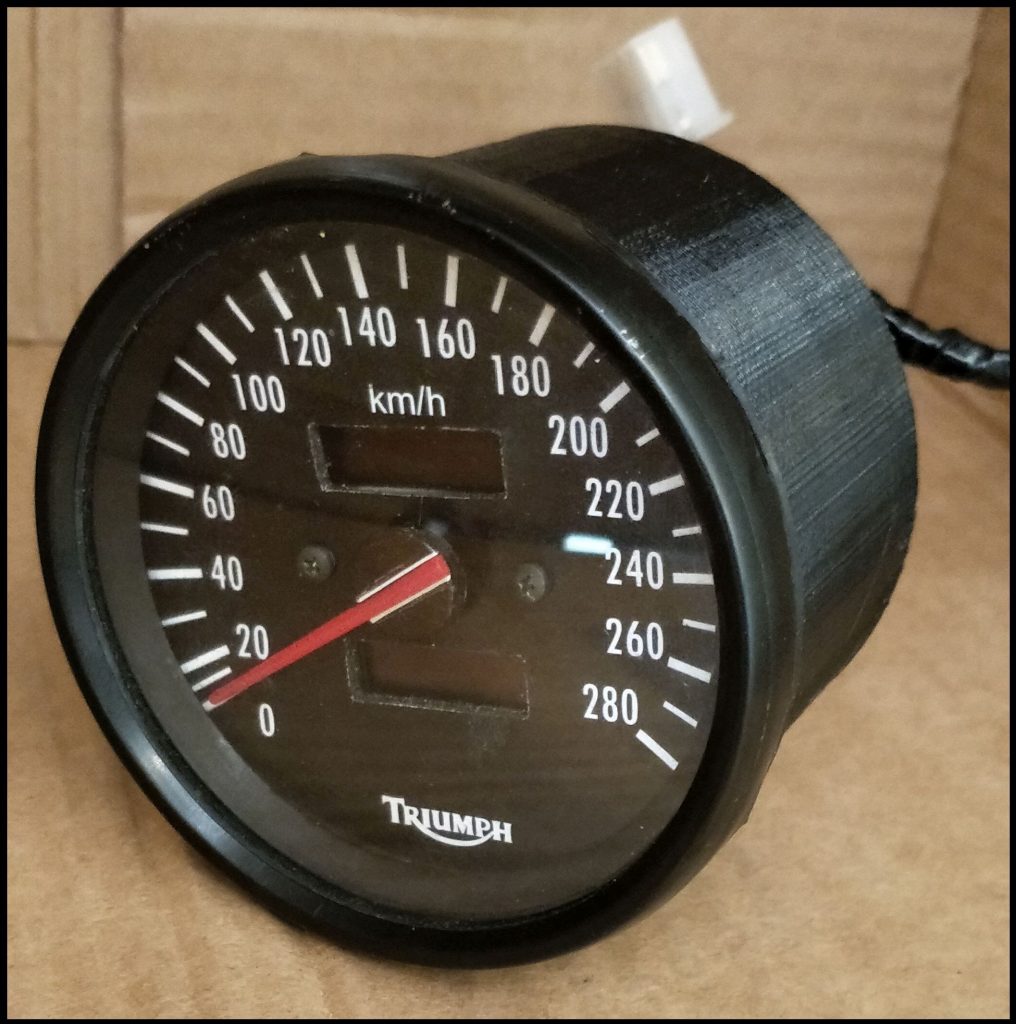 Dash meter with glass and needle on – glass and needle not supplied – reuse existing.
The Rae-San Dash Meter is designed as a modern electronic replacement for original motorcycle gauges.
I t provides a stepper motor driven needle indication of speed or RPM (configurable) that is able to be adjusted to suit the original face plate and graduations on the face plate, providing a means to update and replace the old gauge mechanics but maintain the original look of the dash and to use the same gauge mounting buckets.
The gauge re-uses the face plate, needle and glass, but everything else is new and electronic.
In addition to the needle movement it provides two OLED displays that are configurable by the user to provide displays of several quantities.
The Gauge is able to measure and display the following quantities.
Fuel, Coolant Temperature, Oil Pressure (with appropriate sensor) Speed, Tacho (RPM), Odometer, Tripmeter, Clock ( with optional clock module), System voltage and Gear selected (calculated from RPM/speed).
The Fuel measurement can be done from an analog sensor, or on fuel injected motorcycles by measuring the accumulated injection pulses.
Using the injection pulses gives a very accurate fuel indication and allows for the measurment of the actual fuel used. Calibration occurs at the first refuel where the user adjusts the fill amount on the display. From there just reset the fuel tripmeter when filling the tank. Additional displays with litres remaining, distance to empty and fuel economy can also be selected.
The Gauge supports 4 profiles, and each profile allows for 4 display configurations – which are able to be cycled though with button presses. Supplied with a base set of profiles to support common bikes.
Support for two buttons is provided – for clock setting, display cycling, trip reset and activation of programming or check mode.
All inputs are configurable allowing for different sensor input ranges, wheel circumference adjustment, correction of the gauge and sensor non-linearity etc.
White Back lighting is provided to allow for face plate illumination. OLED display is white to allow for daylight readability.
Gauge configuration is performed usb connection using a simple ANSI terminal (such as Putty).
The gauge is available in a number of sizes to suit the face plate and gauge bucket diameter of a large range of motorcycles.
For those wishing to completely replace the original gauge cluster, 3d printed outer housings (gauge buckets) and diagnostic light clusters are also available to support building a custom dash.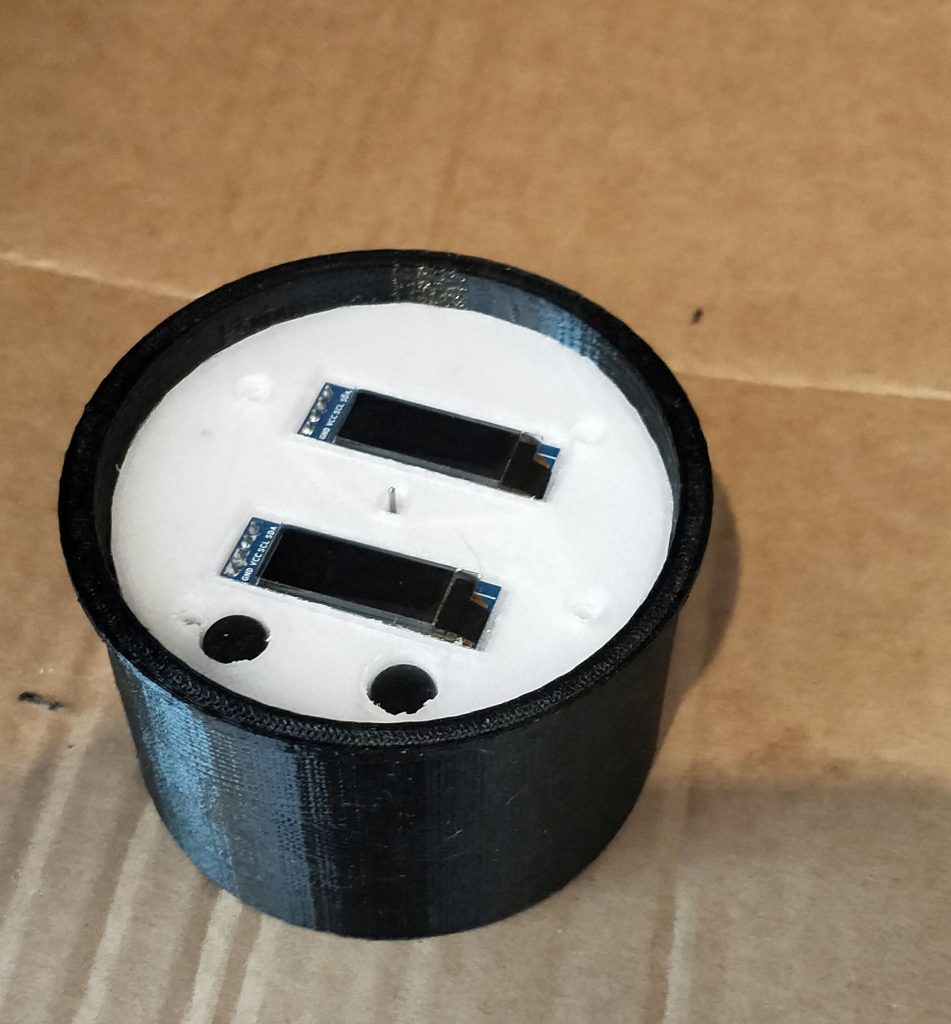 Dash Gauge inser as supplied but without wiring – as supplied has connectors fitted.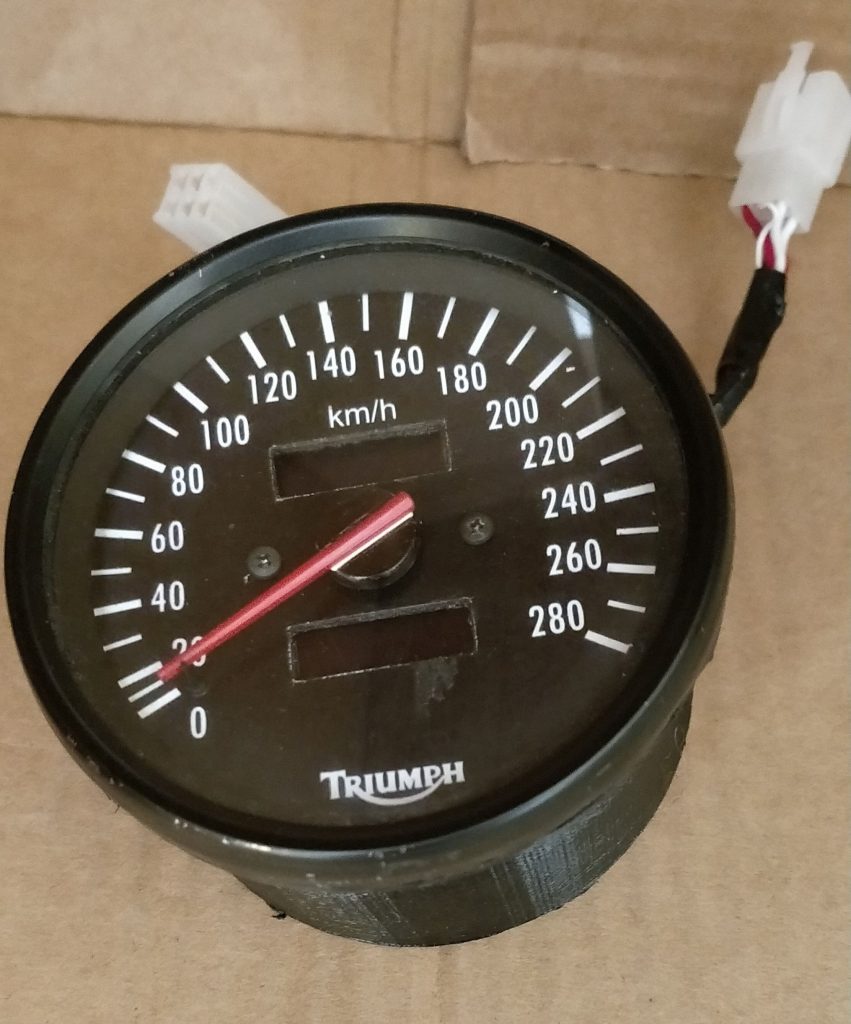 With Glass and needle – but shows connectors.
The first section of this shows a setup using the dash meters on my test bike – and then moves into its primary purpose of the OBD Bridge.
An example of the complete configuration of a dash gauge. A bit lengthy and will probably seem complicated – but once you get the hang of it its quite simple.