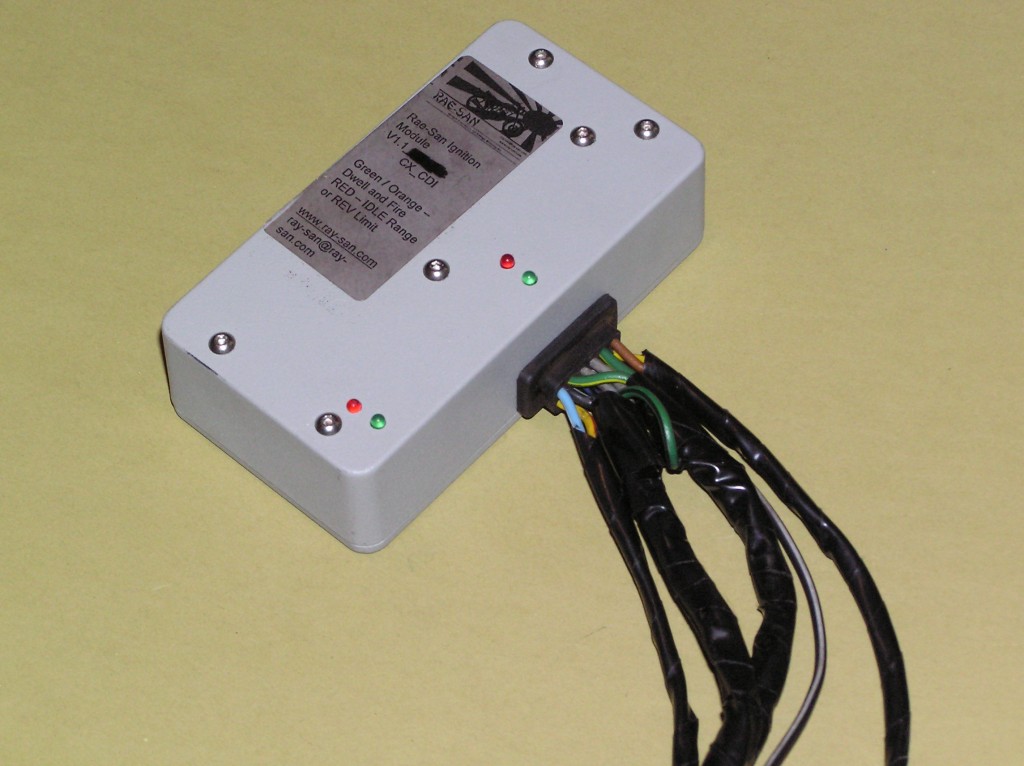 WHAT DOES IT DO?
It replaces the original tired / failing factory ignition with a micro-computer based adjustable system, using the existing wiring and pickups.
It is designed to be a drop in replacement on most bikes. No technical knowledge or expertise is required – plug it in and ride.
It is designed to provide easier starting, to be able to provide some extra advance to take advantage of higher grade fuels and to provide some possibility of a bit more performance for those who are prepared to experiment.
HOW DO I INSTALL IT?
Installation is simple –
Unplug your existing module or modules, plug in the new module to the wiring harness where the old igniters were removed.

Secure the new module with the method of your choice – tape, cable ties, velcro, whatever.

Start the bike and go riding.
WHAT IS IT?
This is the Rae-San dual channel Ignition Module (RIM).
It provides dual independent ignition control for 2 or 4 cylinder motorcycles using the wasted spark system.
It is a general purpose module that is able to operate from a single pickup or dual pickup coils per channel and the detection polarity on each is able to be configured at build time.
It provides computer controlled advance based on the trigger pulses, has adjustable timing parameters and is able to be tweaked for optimum performance with a wide range of motorcycles.
Most 1970s, 1980s and 1990s motorcycles can be catered for.
The unit is intended to replace aging and failing factory ignition units with modern electronics.
It comes in a variety of configurations and connectors to suit your bike. The one shown at left is for the early Honda VF series.
FEATURES
Provides electronically adjusted advance.

Provides ability to choose from 4 standard advance profiles for the bike chosen.

Provides adjustability of the profiles via reprogramming.

Provides Idle RPM indication.

Provides 2 stage RPM limit – progressively retards timing over 2000 rpm – then stops firing  >2000 rpm over selected limit.

Provides pre-set RPM limiter to protect your engine.

Fully electronic.

Contains two completely independent circuits – one for each cylinder/pair to provide failsafe redundancy.

Provides power cut-out to protect ignition coils in the event of stalling.

Provides higher spark energy than original due to 0.25 ohm output resistance driver.

Able to suit Coil On Plug (Stick Coils) wired in series pairs.

Existing kill switch functionality is retained.

Dwell limiting – provides coil protection for any stop position
HOW DO I KNOW WHICH ONE I NEED FOR MY MODEL?
Unless you have a specific need to use the original boxes the VF CASED solution is whats needed.
Locate the existing Igniter box or boxes on your bike – there will be one of the following options
two boxes each with a 6 pin connector – select 6 Pin & 6 Pin

one box with a 6 and 4 pin connector – Select 6 Pin & 4 Pin
If the bike has two boxes – the only complicating factor is if they are mounted together or a large distance apart (> 6 inches), if they are widely separated then an extender cable is required for one plug which can be supplied.
The Installation manual found at the end of this page by following the link has a detailed table of each model – this is useful to confirm suitability to your bike.
Please indicate your bike model and year in the order so that jumpers can be pre-configured for you and that if it's not suitable I can issue a refund immediately.
CONFIGURATION
Please see the manual for the model of your choice for a detailed installation and setup.
When you specify the model of bike the ignition is for– it will come with the default setup for that model pre-configured so you can plug it in and go.
WHAT DO I GET?
All Rae-San products come with a 12 month return to base warranty against manufacturing faults and product failure as a matter of course.
You'll get the unit itself, a copy of the installation instructions for the variant you've chosen and email support if needed to help you get installed and operational.