Thunder's my current vf750 Sabre daily rider.
She was purchased off Ebay as a non runner as a Christmas present for me from my wife and kids – and then shipped for free via the mates network and CX forums from Ballarat to Adelaide over the span of 3 months. It came with a "spare engine" – with a hole in the crankcase where the con rod had punched through …….
The symptoms explained to me – the back wheel was binding – as expected this was due to someone having assembled the engine to shaft gearbox without any spacing shims resulting in the two beveled cogs binding. The early 82 model used a gasket that came in different thicknesses to perform the spacing whereas the 83 and on used a set of metal shims to perform the spacing and a single gasket thickness. It had been put together with the new gasket but without the shims. Stole some shims from the spares engine above and all ok.
The original engine was swapped out for a spare I'd acquired as it wouldn't quite run – its now a spare waiting to go into one of the bikes as needed – it turned out the engine had spent some time with the plugs out – and the cylinders contained enough dirt / moisture /mud to short out the spark at the top of the stoke.
A complete teardown of the engine wasn't done – its a case of get it running and see what needs doing – but the carbs were rebuilt and
everything else was disassembled checked / renovated and reassembled.
Changes from factory that she came with

Dual taillight setup
4 into 1 exhaust
Grill on the radiator no plates
Fairing mount – chopped up instrument mount
Changes I've since made

Modified a CBR600F4i shock and rebuild to fit.
Shock Linkage bushes replaced with Vesconite bushes – trial
37mm Front forks replaced with 41mm VF1000F forks and 30mm calipers with 32mm from VF1000F
fork change means odometer assembly wouldn't fit – modified VF750f cover used fitted with 6 switches and adaptor electronics
Dominator Headlight fitted
Rebuilt instrument pod fitted – reworked bracket to bring it lower and forward
Twin Fiamm horn fitted with custom bracket as originals missing
sidecovers manufactured up out of aluminum as original plastic ones virtually unobtainable in Australia
Side air filters replaced with custom built aluminum manifolds and twin Pod filter.
Runs the Rae-San VF ignition modules as the primary test bed.
Things still to do

November 2015
Time for an update on this one –
Shes been in constant service as the reliable always ready to go bike – but there have been a few changes – oh and I got rear ended on her – not much damage but it took out the previous owners custom twin tailight 🙁 so its back to stock for the moment
Changes:
Recent repaint so that side covers actually match
Fitting of a standard taillight again – had to be sourced from Ebay US.
removed the old instrument pod as its just too bulky
fitted new digital instruments and a digital voltmeter
decided I needed a digital oil pressure meter to balance it up – that turned out to be a small design execise as the standard oil pressure sensor was HUGE. So I instead sourced a piezo electronic one – and designed an adaptor circuit to give the correct scaling for the gauge.
Front forks are now VF1000F2 forks and triples giving a 41mm front end rather than the 37mm – much less flex.
Currently still running the 18″ wheel – but might try the 16″ soon.
Still happily running the rae-san ignition module – with the new code in at the moment.
The new Dash …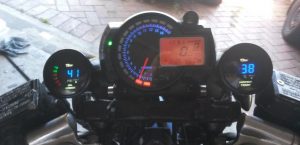 The newer Oil pressure sensor –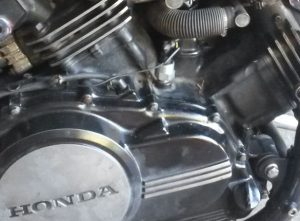 Things to be tried yet –
16 front wheel
possibly the trial of a cx650 wheel hub in a vf750f rear comstar with adaptor plate and rear disk brake – this would give gold wheels as seen on the vf750f and a bit wider rear tire….
Couple of current pics – levers, gauges etc.