This is the CXF -its a CX650 Euro Frame – CX500 engine, and several bits of VF750. Essentially its a lets see what I can put together with the bits I've got left over in the shed! So below you can see the original frame forks and wheels for the 650.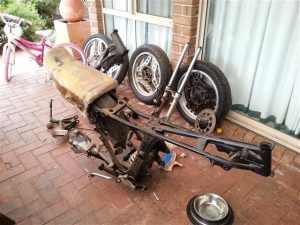 Below you can see what happens if you leave me alone with an angle grinder for too long. Note the non CX shock fitted – this was a bit poor in that the spring was obviously rusty and had been white heatshrinked over!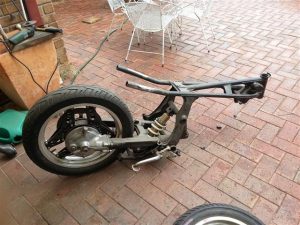 Drilled the Rear Disk – so it matches the fronts.
Modified Cam cog arrived and awaiting installation in the engine
Made up fan mounts for the electric fans on the radiator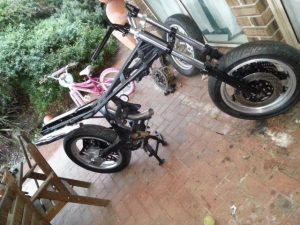 Here you can see a mock up – the forks are loose in the headstem as at this stage I hadn't yet fitted the new tapered bearings and converted the triple over to VF1000F forks – this needed the stem swapping from the CX into VF1000F top and bottom triple clamps.Also note the new rear end to the bike – the long tray that holds the exhausts will hold the battery and other electrical items -The flex tube is for experimenting with the exhaust routing.I have an idea for the exhaust routing – but had to source a pipe bender – I was able to find an old strong English made one locally at a good price – some work with the wire brush and a coat of paint and good as new.
This bike has two set of wheels – because I can …The first is as seen above – the silver outside black centre wheels are standard a CX650 rear wheel and a VF750F front wheel fitted with drilled CX500 disks. ( the thick ones from the single front brake version)
Theres also a set of "BLING" wheels as shown to the left. These are a vf750f front wheel and a hybrid rear.
The Rear wheel is a cx650 shaft driven Hub – fitted into a VF750F rear rim. This gives an extra 0.5″ of rim width at the rear for wider tyres.Yes both comstars were disassembled, drilled out to 8mm from 7 and reassembled using aircraft grade stainless bolts, locking nuts and locktite.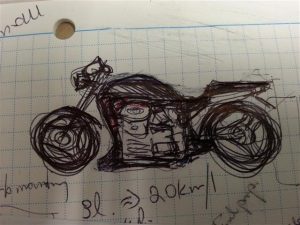 Shown above is a quick scribble of the concept shape as to where Its headed – Alright, I'm not an artist.
Ok lots of activity has happened on this one – albeit slower than Id like.
This bike has been acting as the test bed for the CX CDI and Hall effect ignition developement – so its seen many different setups – CDI coils, 12V coils, TAI, CDI, stock pickups and Hall effect setups.
Things that have been done – to list but a few :
Rebuilt mono shock – cb600 unit
Rebuild back end as seen above with Harley exhausts
Hugger built and fitted
Disk brake setup fitted
Rear sets bought, fitted and adapted. This is a big one as the CX gearshift acts in the wrong plane for a normal gearshift – a simple arrangement had to be devised that would allow for the operation of the gearshift without undue complexity – several iterations and refinements were gone through before the final solution was arrived at –
build the exhaust from header to the mufflers – the over and through arrangement was abandoned due to there being insufficient room to get the exhaust past the carbs and instead I routed up through between the engine and the swing arm and around the mono shock.
While in the US I visited with Murray F and got a set of Murray's Carbs – part of the reason for the above change
This engine was a TAI engine – but is currently configured with CDI pickups and Hall effect so it can run either for testing.
A retarded cam gear has been fitted to give more HP but at about a 500 rpm increase in RPM
Fabricated the chin fairing mounts
fitted the vf1000F forks / triples etc.
Numerous parts sent to CXPHREAK for polishing in a contra deal …
Fabricated tail / number plate holder
Indicators , taillights, dominator twin chrome headlight fitted
New electronic dash and temperature gauge fitted
Completely new wiring harness build – relay switching of horn, high low beam
Rae-San ignition fitted
tail section frame built.
clip-ons fitted, new mirrors, braided lines,brakes rebuild etc.
Electric fans fitted / electronic thermostat fitted.
wrapped exhausts.
To Do
Finish Tail hump.
Get rubber boot for the shaft to engine coupling.
Build seat.
Decide upon / build tank
Paint.
As they say – "this thread is useless without pictures"
so currently –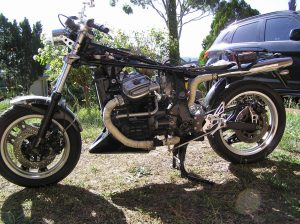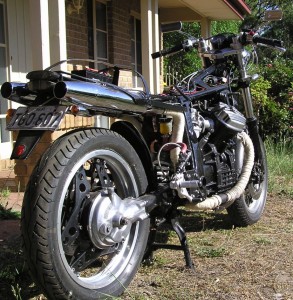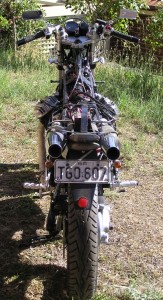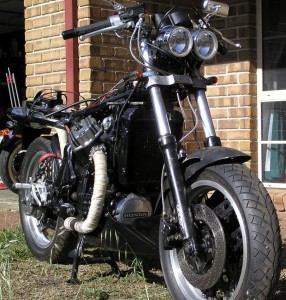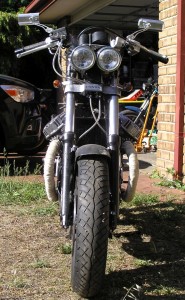 Now Still trying to resolve the tank –
here's a standard CX shadow tank :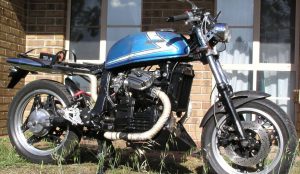 I'n not really keen on all that space – and the angle – I'm leaning towards something more like this –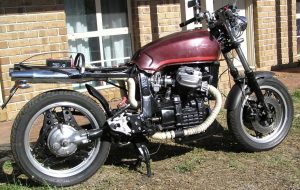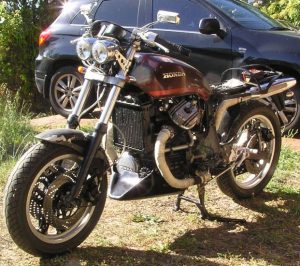 It hugs the radiator and comes down lower near the heads – flowing better into the seat and tail – but of coarse means I need to built the tank – thats a hollow top from a sabre ….
Sigh